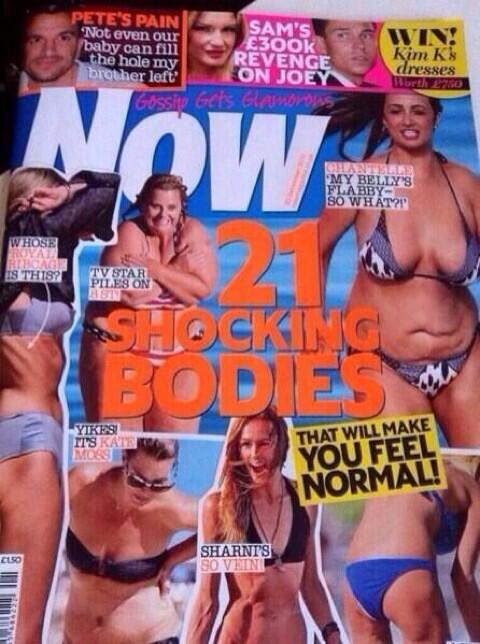 You've probably seen this picture floating around Twitter the past couple of days, it's from this weeks issue of Now Magazine and the headline pretty much speaks for itself. I don't even know what to say. I am so angry that someone could even consider this an article, let alone actually publish it and put it on the front page.
The media is one of the biggest influences around and the fact it is being used to shame celebrities for their bodies is awful. It's really not surprising that the amount of females suffering with eating disorders is at a high when you have things like this broadcast for anyone to see. Of course everyone is entitled to have an opinion but it is in no way acceptable for a publication targeting young women to use images of celebrities that they deem to have unattractive bodies on a front cover or anywhere inside their magazine. I am genuinely appalled by this, there is no such thing as a 'normal body' and to put people that are small and big on the front cover of their magazine and basically ask us to cast judgment on them is one that should not be allowed. It probably isn't going to make people who see the magazine who think they are similar to the images feel that good about themselves if they are able to compare themselves to an image deemed as 'shocking'. I also cannot imagine how much it must hurt to be one of the women shown as having a 'shocking body', they seem pretty happy in the pictures too me and not afraid of wearing a bikini on the beach! I think its great they are showing real women instead of a photoshopped stick, but they way they have called these celebrities out to say they are 'abnormal' is something that should not be even considered as a publishable idea.
I personally, like most, have issues with my body and there are lots of things I'd change if I had the chance but looking at the front cover of Now does nothing to make me feel better about myself or that I am 'normal'. All it does is assure that I will never be purchasing Now again. It's not just Now that body slam, I wrote an open letter to Heat magazine a while back, which you can read
here
. I am absolutely sick of the media being obsessive and mostly negative about the way people look, young girls are growing up in a world where they are being told certain body sizes or shapes are wrong and as much as size zero is becoming less desirable, it still seems that unless you are a size 10 or below there is something 'shocking' about you.
I really hope that Now, it's writers and the editor are ashamed of themselves for publishing this, but my hopes aren't that high as nobody involved with the magazine has said anything about it online or even hinted at an apology or statement to explain why they decided to publish this.
I really think its time media moved on and stopped shaming women for their bodies and started to be a more positive influence for the next generation.